Ride Smart
It doesn't hurt to tune up your riding skills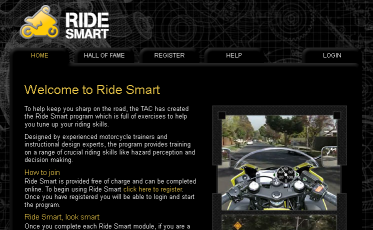 To make it easy we've created a free online Ride Smart tool full of exercises to keep you sharp on the roads. Designed by experienced motorcycle trainers and instructional design experts, the disc provides training on a range of crucial riding skills like hazard perception and decision making. The tool consists of 102 exercises and can be completed over several sessions.
Ride Smart is especially useful for new riders, but can also be valuable to more experienced riders who want to brush up on their skills. The tutorials will take you through many different riding locations: around town, on the freeway and in rural areas.
You'll need to make decisions, test your memory as well as your ability to predict what other road users might do next. You'll see what happens when you take risks, or don't concentrate and, just like everyday life, you'll also have to deal with other people's mistakes.
See RideSmart for more information.