MOTORCYCLE GEAR
JACKETS
A single layer of fabric won't protect against abrasion. Arm yourself with durable materials, impact protectors and a good fit.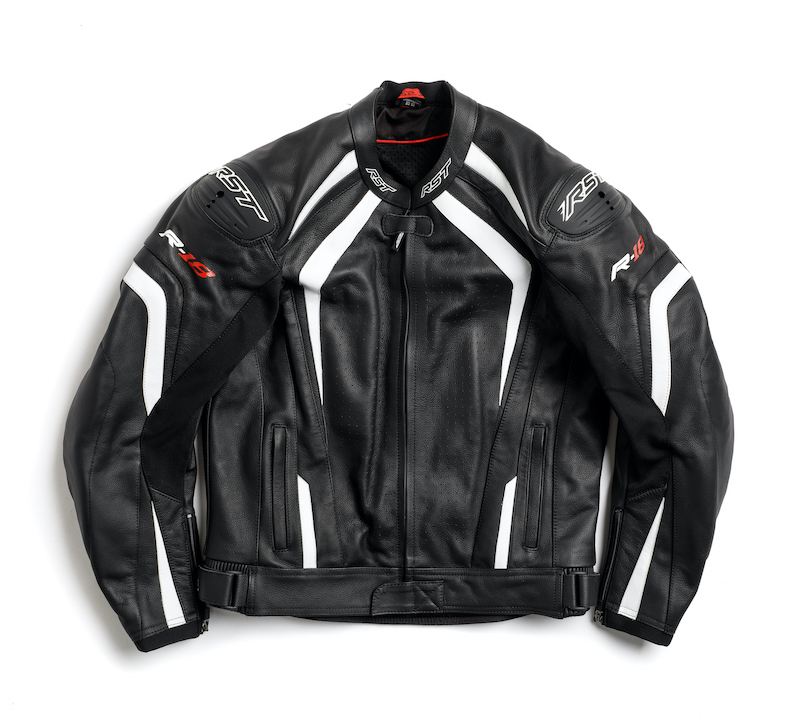 JACKET OVERVIEW
What to look out for when buying a motorcycle jacket.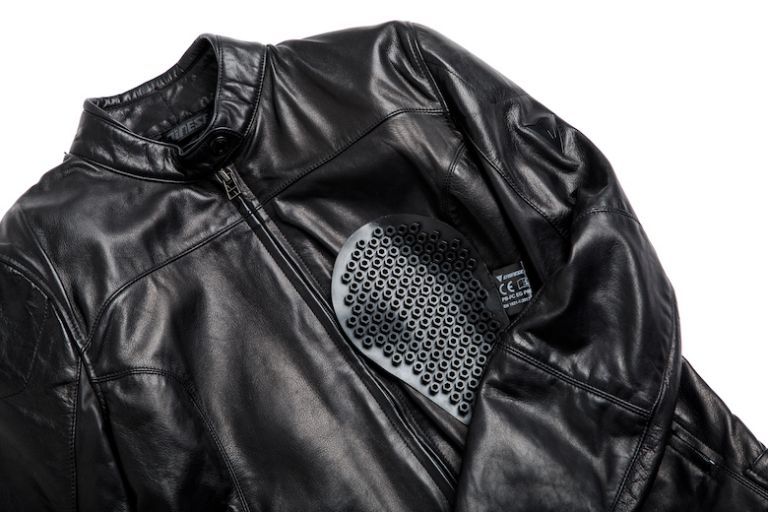 01 - ABRASION
CHOOSE LEATHER
Thin and poorly-constructed designs won't save your skin in a crash. Go for leather jackets that are built for motorcyclists. Where possible use resources like MotoCAP star rating to investigate how long these materials will last in a slide. Aim for a jacket that has at least four seconds when sliding across a road.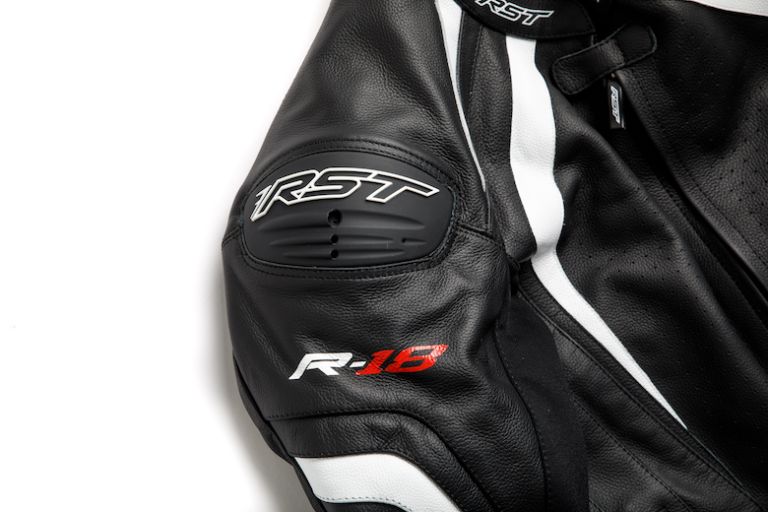 02 - RISK AREAS
REACH FOR REINFORCED STITCHING
Joins and stitched seams can burst on impact. Injury risk areas - back, elbows, shoulders, arms, outside wrists - need 2-3 rows of stitching, with at least one row guarded by a layer of material. Check there are no gaps between layers. Avoid stretch or mesh panels in high impact areas.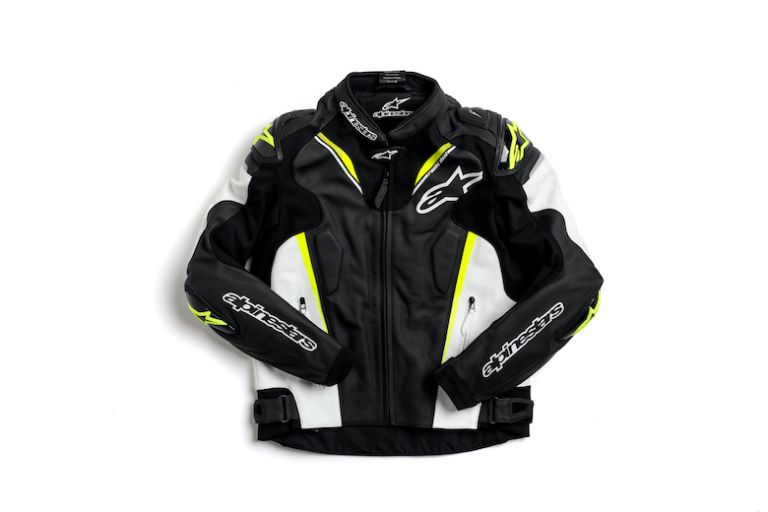 03 - SMART DESIGNS
KEEP IMPACT POINTS CLEAR
Clever designs keep vulnerable points – spine, elbows, shoulders, arms and outer wrists – free of zips, buttons, buckles, studs, straps or fastenings. Heavy duty zips covered with a flap of material on both sides prevent contact with the body or the road in a crash. Wrist straps keep sleeves in position.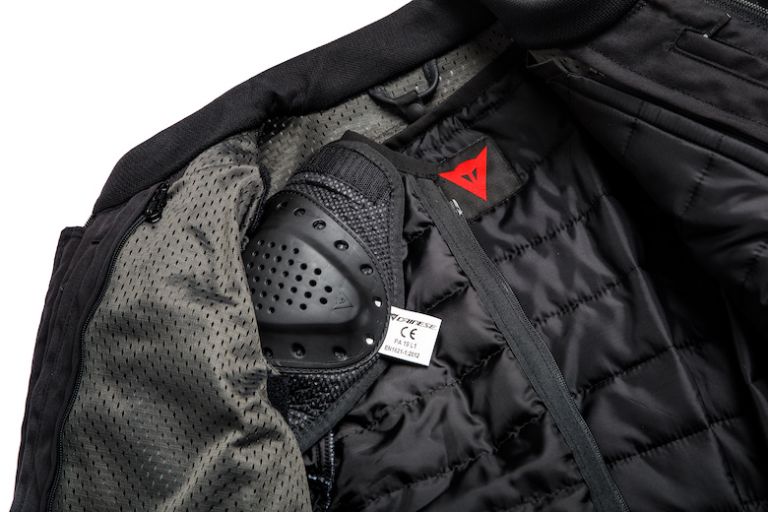 04 - IMPACT PROTECTORS
ADD IMPACT PROTECTORS
The elbows and shoulders deserve extra shields on and off-road. Built-in impact protectors should fit snugly, and fit should also be considered when buying them separately. If protectors are too big, they will slip off. Motorbike and scooter impact protectors come in plastic, moulded rubber and dual density foam. Some jackets may have only foam fillers in the impact protector pouches, unless they are labelled with EN 1621-1 or EN 1621-2 approval.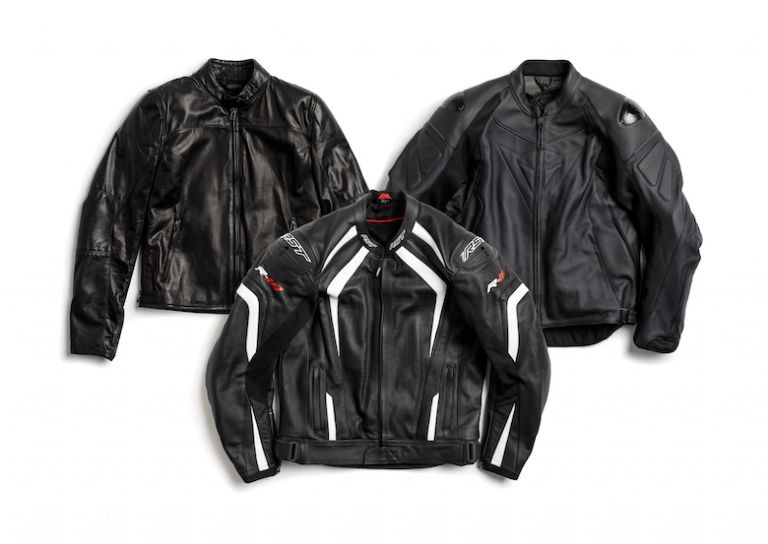 05 - JUDGE THE FIT
SIZED FOR YOU
Test the fit by sitting in your riding position for several minutes, wearing typical clothes underneath. It should be snug at the wrists and across the arms. Make sure it covers your hips, unless you're buying a suit that zips together. Baggy gear will leak warm air in cold weather and expose your skin in a crash.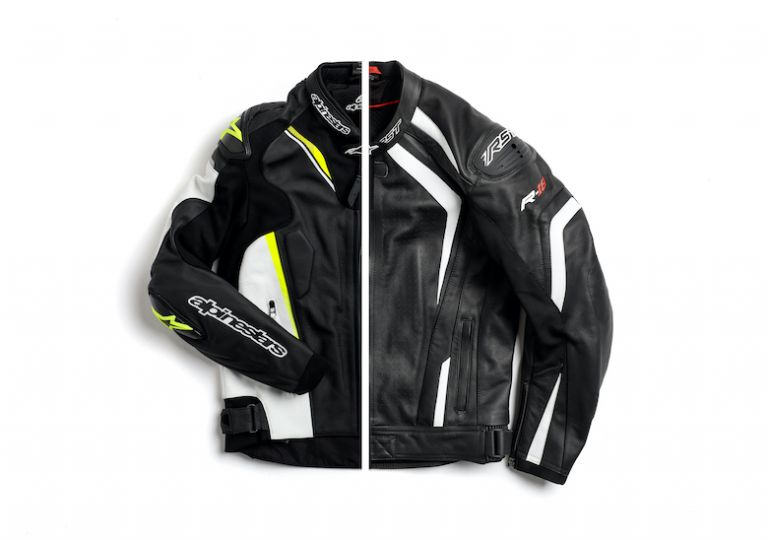 06 - MATERIALS MATTER
COLOURS AND LAYERS
Mixing reflective or light colours with dark colours makes it easier for drivers to see you in low light. Lighter colours are also cooler in hot weather. Consider extra layers under and over the jacket to insulate against the cold, wind and wet.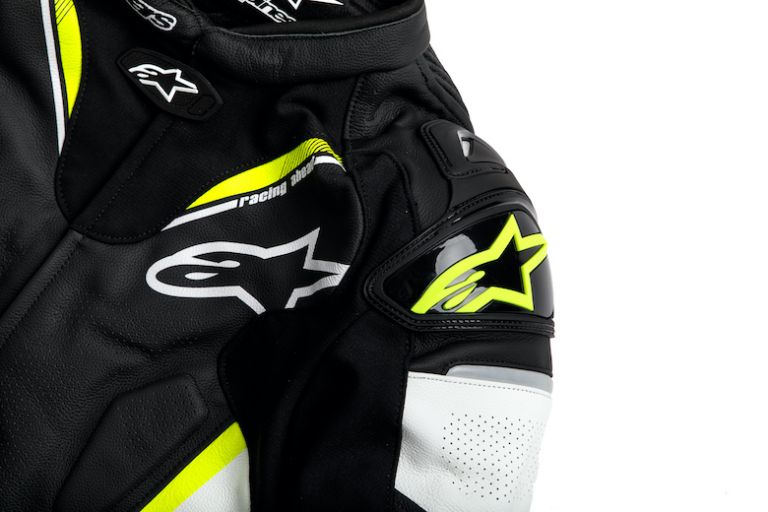 07 - OFF-ROAD ARMOUR
MADE TO PROTECT
Jersey fabrics and mesh help keep you cool. However, they're not designed to protect skin if it hits the road. If you've got a dual purpose bike, have an on-road jacket with abrasion protection on hand for the ride home.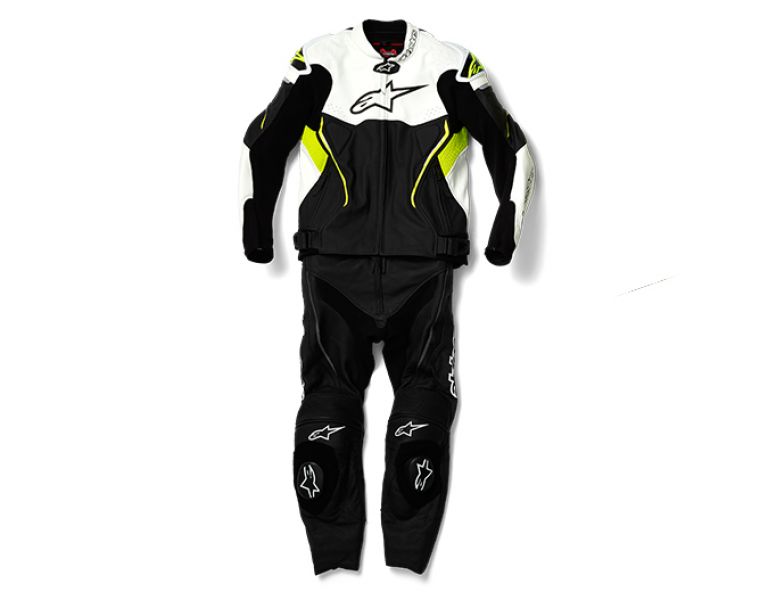 08 - ALL-IN-ONE SOLUTION
FULL BODY SUITS
One-piece racing suits offer an all-in-one leather solution with built-in impact protectors. Lightweight undersuits can make riding more comfortable in hot or cold weather. However, a suit with pants and jacket that zip together may be more practical.
BUYING GUIDE
Pick a jacket that's designed for riding. If you want to know which designs protect you most head over to the MotoCAP website or use the information below as a guide.
01 - Prioritise abrasion protection
Consider thick, high grade leather to withstand sliding along asphalt. Beware lower grade and imitation materials that are thin and poorly constructed.
02 - Off-road gear
Look for gear specific to motocross or enduro that fits you well. Chest impact protectors and neck braces are a priority. Abrasion resistant jerseys improve your comfort and temperature control.
03 - Finding women's jackets
Choices are still limited, but avoid buying a man's style if it compromises protection around your shoulders and hips. Facebook groups for female bike or scooter riders share tips on stockists and styles.
04 - Well-crafted materials
The best jackets will conceal fasteners and zips so they can't snag on the road or penetrate the body in a crash. The fewer joins and seams, the better.
05 - Hand pick protection
Impact protectors must fit like a glove or they will slip off under pressure. Start with elbow protectors and shoulder protectors and consider kidney belts for longer rides.
06 - Embrace colour
The less black on your jacket, the more likely you'll be seen. Go for white or Hi Viz piping and logos with bright panels. Light colours are cooler in summer, too.
07 - Test the fit
The fit needs to suit your riding position. Make sure you can move comfortably on your bike, use all controls, make signals and turn to look behind. The jacket and impact protectors should stay in position while using controls.
08 - The summer dilemma
Many jackets are designed for three seasons - autumn, winter and spring. Consider investing in one specifically for warm weather riding. Jackets for summer come in light colours with extra vents and mesh panels. Ultimately, if it's too hot to wear gear, it's too hot to ride.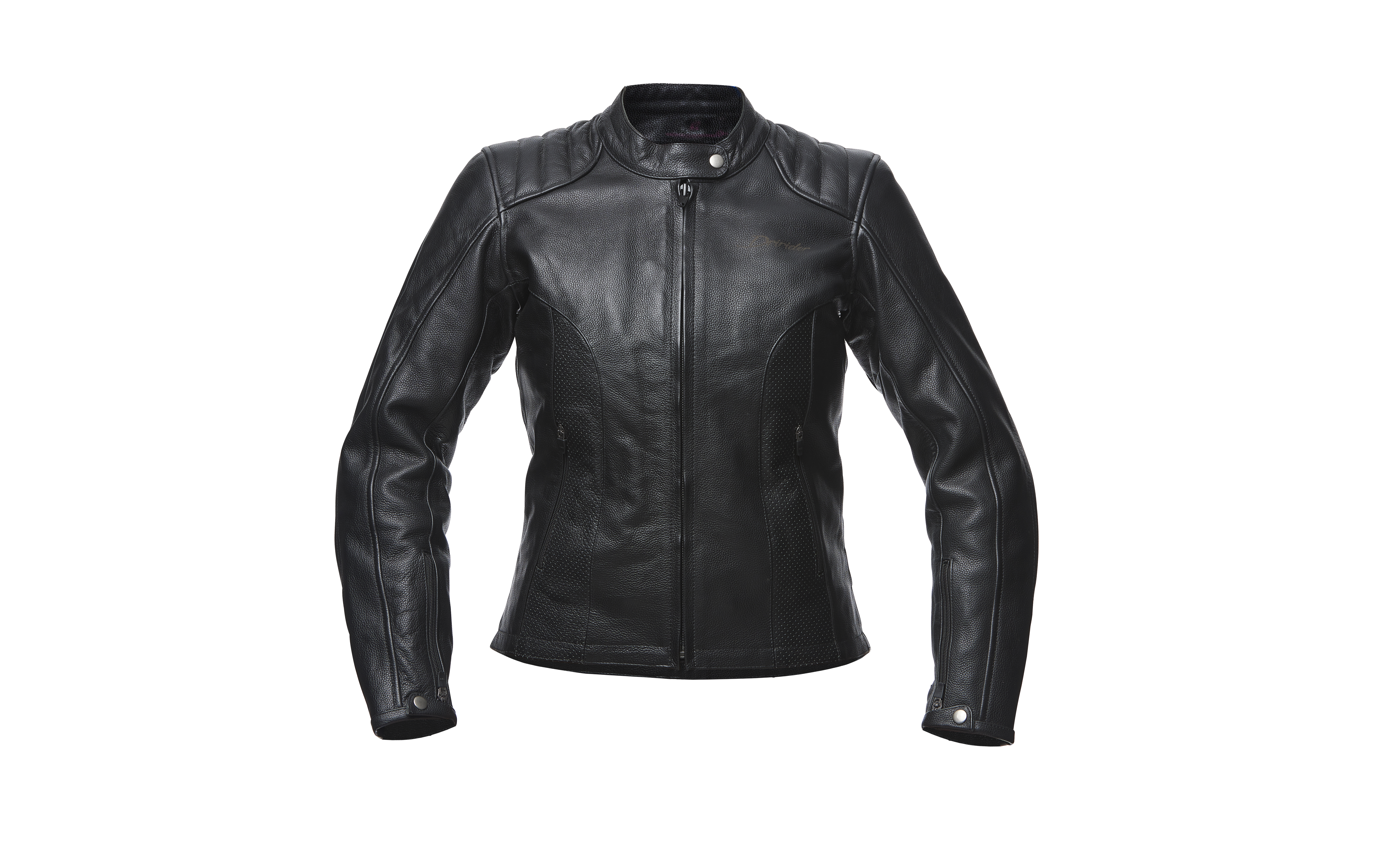 Protective Jacket VS Favourite Hoodie
Your gear is your body's guard in a crash. Arming yourself with a MotoCAP rated jacket built for motorcycling will minimise your chance of injury. Your favourite hoodie will not. Visit motocap.com.au to pick the right gear to protect you on your ride.
TYPES OF JACKETS
Use MotoCAP to check the safety features of motorcycle jackets. If you're not sure where to start, the site helps you search for the safest options.
BUYING SECOND HAND
Buying second hand can be a good option for the budget conscious rider wanting the safest gear. When shopping for second hand gear, use the information below check the safety features to look out for and search the safest options for jackets, pants and gloves.

01 - Test the fit
Try the gear on with clothing you normally wear while riding. Check that it is snug and comfortable in your normal riding position.

02 - Impact protectors
Impact protectors must remain securely in place to work effectively. Check your protectors fit with the gear, especially over your shoulders, elbows, hips and knees.

03 - Seams and stitching
Make sure there's no splits at the seams. They should have two or three lines of stitching to prevent seams bursting on impact.

04 - Shop local
Gumtree and Facebook Marketplace are good places to snag bargain second hand gear. Use their filters to search locally. Always try the gear on before you buy.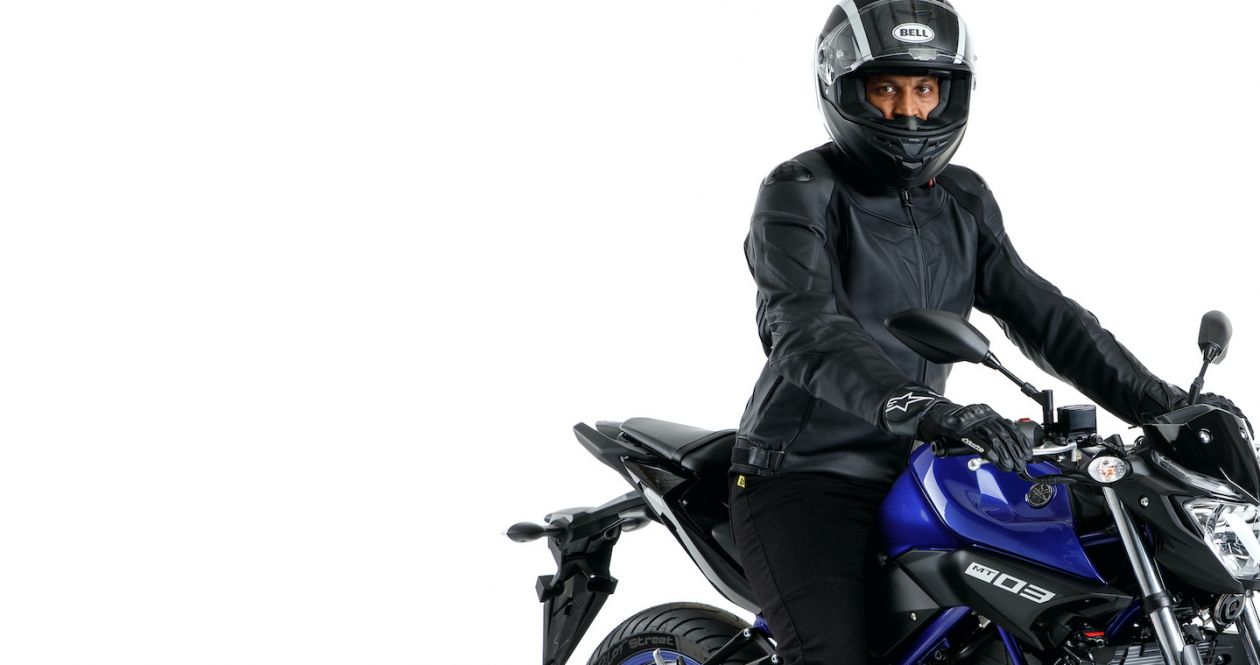 FIND A STOCKIST
We've compiled a list of Victorian motorcycle retailers where you can buy the latest and safest gear. If you decide to buy gear online, it's a good idea to shop around and find gear that fits you best first. Most online retailers have physical stores and the larger retailers offer all popular motorcycle gear brands.