ABS
Motorcycle ABS may help motorcyclists to avoid crashes by reducing braking distance in the event of a wheel lock-up and therefore supporting stability of the motorcycle when in hard or emergency braking conditions. It becomes active when electronic sensors detect that the wheels are about to lock and consequently moderates the pressure in each brake thereby preventing skidding.
Motorcycles with ABS technology have been shown to be involved in fewer crashes on the road and therefore should be high on the priority list for any rider looking to buy a new motorcycle.
Why do I need it?
Research shows that motorcycle ABS offers significant safety benefits to riders, via reductions in stopping distances and increased stability. ABS is associated with significant reductions in crashes. (See Teoh (2010), Rizzi, Strandroth and Tingvall (2009), Roll, Hoffman and König (2009) for more detail on the effectiveness of motorcycle ABS).
To summarise, this research shows estimates of reductions in crashes attributed to ABS:
range from a 17% to a 38% reduction in injury crashes, and
range from a 37% to 53% reduction in fatality or serious injury crashes.
In addition, data from insurance agencies in the USA show that motorcycles with ABS have 22% fewer insurance claims than motorcycles without ABS (Highway Loss Data Institute, 2009).
Closed circuit testing by Vavryn and Winkelbauer (2004) has shown that stopping distances can be reduced by between 5% and 10% and that deceleration rates can be improved by 18% and 35% when comparing ABS with non ABS motorcycles.
Consider the example of a rider with average experience travelling at 100km/h. An estimated braking distance of 58.5 metres is needed to bring the motorcycle to a complete stop in this scenario. With the same bike and rider but the addition of ABS the distance is reduced to 49.5 metres, a reduction of 9 metres in the stopping distance.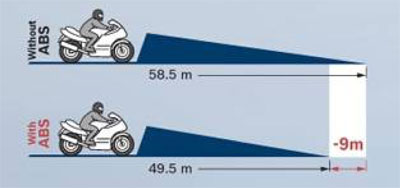 *Source: Kuratorium fur Verkehrssicherheit, Wien, 2002
The effectiveness of ABS does vary according to the conditions, with the advantage of ABS being greater in wet or lower grip situations (i.e. loose road surfaces), than in dry high grip conditions.
How does ABS work?
A skidding wheel takes longer to stop than a wheel that is gripping the road surface, and reduces stability of the motorcycle. ABS prevents skidding by moderating the brake pressure applied to each wheel, preventing wheel lock and mitigating rear wheel lift, and thereby enabling a shorter stopping distance and more stable stop.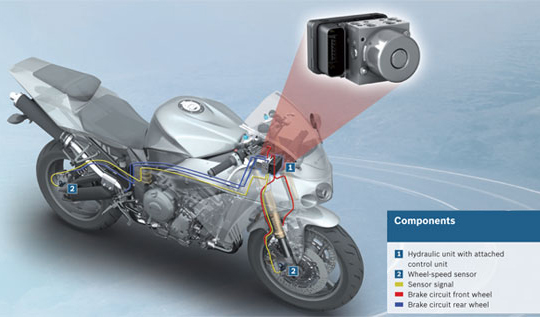 *Image courtesy of Bosch
Motorcycle ABS operates similarly to ABS in passenger cars however:
motorcycle braking requirements are different to passenger cars, as front and rear brakes receive separate rider input
dynamic load change at the wheels is more pronounced with motorcycles than with passenger vehicles
How do I use ABS when riding a motorcycle?
ABS automatically activates when wheel lock is imminent in heavy braking conditions. ABS provides the right amount of pressure to wheels, allowing riders to brake as hard as they can, without the risk of wheel lock. In this way a rider who "grabs" or "jumps" on the brakes as a result of being faced with an emergency situation is able to quickly apply the brakes as hard as possible without the fear of needing to compensate for a wheel locking up.
Are there different types of ABS?
While the term ABS is used across motorcycle makes, there are variations in the braking systems that are combined with ABS and the types of ABS technology used with these systems. Some motorcycle makes also offer traction control in combination with ABS. Traction control systems are different to ABS. Traction control is independent of ABS and complements it, in that traction control acts on vehicle control and stability under acceleration, rather than under heavy braking.
What should I do?
ABS is now available on a range of motorcycles, either as standard or as an optional feature. ABS should be a priority when buying a motorcycle. Ask manufacturers or dealers about whether the model you are interested in has ABS.
A list of some motorcycles that have ABS is available.
References
Highway Loss Data Institute (2009). Insurance Special Report: Motorcycle Antilock Braking System (ABS). December 2009, A-81.
www.iihs.org/research/topics/pdf/hldi_abs.pdf
Rizzi, M., Strandroth, J. & Tingvall, C. (2009). The effectiveness of Antilock Brake Systems on motorcycles in reducing real-life crashes and injuries. Traffic Injury Prevention, 10 (5), 479-487.
Roll, G., Hoffman, O., & König, J. (2009). Effectiveness Evaluation of Antilock Brake System for Motorcycles in Real-World Accident Scenarios. Paper presented at Enhanced Safety of Vehicles Conference, 2009: Stuttgard, Germany.
www-nrd.nhtsa.dot.gov/pdf/esv/esv21/09-0254.pdf
Teoh, E.R. (2010). Effectiveness of Antilock Braking Systems in Reducing Fatal Motorcycle Crashes. Insurance Institute for Highway Safety: Arlington, USA.
www.iihs.org/research/topics/pdf/r1110.pdf
Vavryn, K. & Winkelbauer M. (2004). Braking Performance of Experienced and Novice Motorcycle Riders – Results of a Field Study. Paper presented at International Conference on Transport and Traffic Psychology, 2004: Nottingham, UK.
www.psychology.nottingham.ac.uk/IAAPdiv13/ICTTP2004papers2/Performance/Vavryn.pdf
Acknowledgements
Thank you to Bosch for providing information about the technical aspects of motorcycle ABS and to FCAI for providing information on which motorcycles have ABS as standard or an option.