Great Ocean Road
The Great Ocean Road and Otway Region provide some of the most spectacular motorcycling routes in the country. The scenery takes your breath away, the locals are friendly and the road is challenging.
We've compiled some great tips from the Motorcycle Subcommittee of the Barwon Community Road Safety Council to make sure fellow riders get the most out of these regions.
The Great Ocean Ride DVD guides you through this magnificent ride before you hit the road. It's available for free from the VicRoads bookshop - phone 9854 2782.
How to get there
Start your Great Ocean Road ride from Geelong, a sixty minute ride from Melbourne via the Western Ring Road and Princes Freeway. From Geelong, it's a quick journey down to the Surf Coast where you can enjoy the scenery and beaches of Torquay and Angelsea and wind your way on through to Lorne and then Apollo Bay.
Highlights of the Surf Coast
Torquay - stop and enjoy this prominent surfing beach, and visit the world famous Bells Beach on the way to Anglesea.
Lorne - one of the most popular all year round holiday resorts in Victoria. Take a break and enjoy a latte or two at one of the many coffee shops and restaurants. On the way there, stop for a breather at the Airey's Inlet Lighthouse, where the view is nothing less than spectacular, before you approach the winding mountainous roads leading into Lorne, as these roads will test your riding skills to the limit.
Apollo Bay - This picturesque fishing village is spread around a sweeping bay and nestled against the lush Otway Ranges.
Lavers Hill - the highest point in the Otways and a great spot to rest, rehydrate and review.
Port Campbell - located on a spectacular stretch of coastline known as the Shipwreck Coast, Port Campbell is a close ride from the popular tourist attraction, the Twelve Apostles.
Otway National Park - Some of Victoria's most rugged, inaccessible coastline and amazing rainforests can be found within the Otway National Park.
Care must be taken on these roads and we advise contacting an information centre for details of conditions prior to entering the Otway National Park area.
Distances and times from Geelong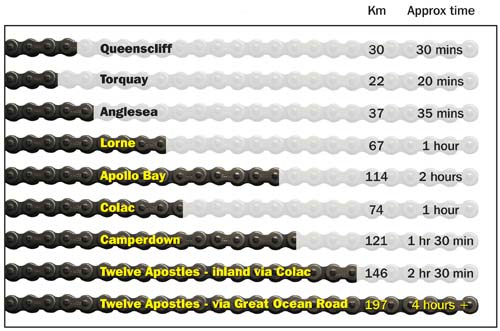 Keep in mind that during special events and peak periods, Great Ocean Road travel times will increase significantly.
Visitor Information
If you want to know more, talk to one of the locals or visit the Official Great Ocean Road web site. This site also contains details of Great Ocean Road Visitor Centres, which are open seven days a week from 9am to 5pm and can be reached on 1800 620 888.